†
Current Monthly Challenges
Cardio Drumming & Weights
with Oakwood
MISSION: Get FIT, have FUN – worship GOD!
WHY WOULD I DONATE $5.00/each to join these challenges? The result OF BEING INTENTIONAL ABOUT YOUR HEALTH AND FITNESS IS PRICELESS!!! THE CLASSES AT #MissionFit ARE DESIGNED TO INCREASE BOTH YOUR STRENGTH AND ENDURANCE WHEN YOU ATTEND REGULARLY!!! Let's get intentional in working on our health… and praising God while we do it!
CLOSED> "Mission: Get to Class" Attendance Challenge
3/1/2021-4/29/2021

we will have a "Get to Class" attendance challenge.
There are a total of 18 classes that will run 3/1-4/29. Each time you attend class, you will get a "ticket" to put into the drawing bucket. The more classes you attend, the better your chance for a prize! On 4/29/2021 we will draw various tickets to give away prizes!!! Who doesn't like a fun prize???!!!!
Note: All are welcome to join this challenge at any time from 3/1 – 4/29.
***DONATION TO JOIN ATTENDANCE CHALLENGE $5.00***
CLOSED>

"Mission: Fitness" Challenge
We will run a fitness challenge for

3/1/21-4/29/21

.
Here is how it will work: Arrive by 6:00pm on Monday 3/1/2021. You will pick 5 exercises. We will do each exercise for 30 seconds and record on a sheet. On Thursday, 4/29/21 you will do the same exercises and compare. If you have improved your amount on all 5 exercises, you will receive a prize!
Note: This challenge requires a 2 month improvement window, thus was closed to new participants shortly after start while challenge participants are improving their fitness from 3/1 – 4/29.
***DONATION TO JOIN FITNESS CHALLENGE $5.00***
Upcoming Challenges to be announced soon!
*** Donations will be used to cover #
MissionFit
supplies and the Oakwood Building Fund.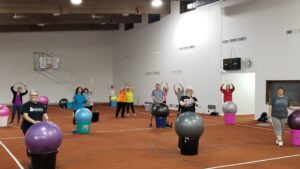 MissionFit Location:
Use South Warehouse Door Entrance